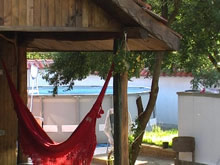 Welcome to The White House Estate
This is a glorious little rural estate in Kipilovo, a village nestled in the Stara Planina Mountains, 50km from Sliven. Its luxury villa, cottage, barn and pool have been lovingly refurbished, extended and luxuriously equipped with complete escape in mind. Although the premises can sleep 12 or more, it is an excellent retreat for a much smaller number - or even just a couple - who love freedom and space. We have established this property and site for our charity WORLDwrite to eventually host groups who wish to learn filmmaking, but whilst we raise the funds for film gear we hope to provide others with a chance to enjoy its wonderful facilities and explore life in Bulgaria.
The area is perfect for people who enjoy nature, painting, cycling, filmmaking, photography, exploring, reading, writing and walking and those who want a holiday villa and cottage that enable them to get away from it all, or to explore Bulgarian life off the tourist trail.